Fruits can provide us with a good dose of essential vitamins and minerals. In order to maintain a healthy lifestyle, it is important to include a variety of fruits in your daily diet. One such wonder fruit that is loaded with health benefiting properties is watermelon. This juicy summer fruit is not only refreshing but also packs a punch of nutrients as well. Abundantly rich in vitamin B-6, folate, magnesium, phosphorus, potassium, zinc, copper and manganese, watermelon is delicious fruit to binge on. According to the book 'Healing Foods' by DK Publishing, the red-fleshed melon is a rich source of the plant pigment lycopene, which helps lower the risk of heart disease. This nutritious fruit contains 95 percent water and you can add it to salads or juice it up. Since this wonder fruit is largely made up of water and contains an extremely low-calorie count, it has gained popularity among fitness experts. So, how many calories are there in watermelon? How can we use this summer fruit in easy and healthy recipes? Let's find out.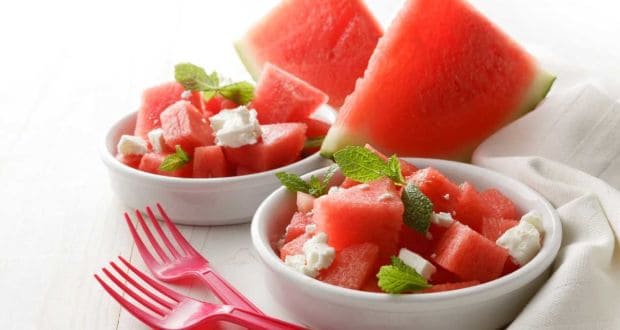 Watermelon with benefiting properties
Calories In Watermelon
According to the USDA dietary guidelines, a 100-gram serving of watermelon contains about 30 calories. As per the USDA, an average watermelon typically is 15″ long and 7-1/2″ in diameter. Larger watermelons have a few more calories. This fibre-rich fruit can easily be eaten as an evening snack and they have the tendency to boost the body's metabolism as well. If you are planning to go on a detox diet, then this fruit is just apt for you. Watermelons are an excellent food for light detox days. Their water content (around 95 percent) is highly mineralised and has an alkalising and diuretic effect. Easy-to-digest, watermelon is gentle on your tummy and also provides with useful
for energy. This low-calorie fruit can enhance blood flow as well. According to the book 'Healing Foods,' citrulline, an amino acid in the rind and flesh of watermelon, can stimulate the production of nitric oxide, which relaxes and expands blood vessels. Apart from this, the citrulline in watermelon boosts immune function and speeds wound healing.
Healthy Recipes That You Can Prepare Using Watermelons
With all these benefits that watermelons have to offer, we're sure you have all the more reasons to indulge in this nutritious delight. Here are some easy-peasy yet healthy recipes that you can prepare using watermelons. Read on to know more about them.
Watermelon Salad
Recipe by Executive Chef Piyush
Watermelon balls, fresh lettuce, feta and a splash of lime, that is all you need for an incredibly refreshing salad. Honey, pine nuts and a generous drizzle of extra virgin olive oil adds a nice and piquant aroma to the salad. Savour it with your family and friends.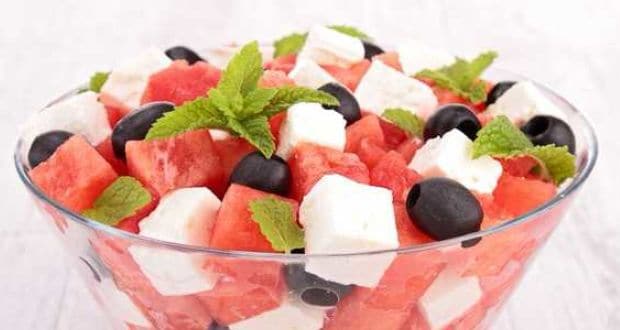 Watermelon salad